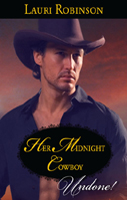 4.5 Stars!! Lauri Robinson has a way of making her characters full of life. A thoroughly enjoyable short read!
Copied Blurb:
Eastern Wyoming, 1884
In Angel Clayton's opinion, men don't get any finer than hired hand Rowdy McGuire. The very thought of him makes her ache with need—and the sight of his golden, glistening skin only makes it worse. She knows he feels their bodies' magical, intense pull towards one another, even if the honorable cowboy refuses to admit that a drifter and a ranch owner's daughter could ever be together.
But Angel is determined to get what she wants—and she wants Rowdy!