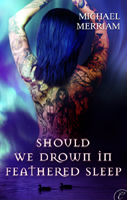 5 Stars!! I was really looking forward to this short story by Michael Merriam. For one it takes place in the state I live in, MN. And for two, loons have such a special place in my heart. And after reading the blurb for the story, I had to guess that Merriam has looked into the eyes of a loon and seen their remarkable intelligence. That said, I still seriously wondered how a futuristic story like this would turn out!
Grace Kriske is an unhappy woman in a war-torn society, and she is bound to a wheelchair. She feels dependent on those around her. Her boyfriend longs for her to leave with him, yet she is hesitant to do so. She dreams of the loons, and is soon called to make a frightening sacrifice.
Should We Drown In Feathered Sleep turned out beautifully! It was a touching story, even while Merriam did not hesitate to show mankind's unkindness, or gloss over certain subject matters. Hard for me to say more without really giving away the story, since it was short. But I do recommend it!! And I hope to see more from this very talented and insightful author!
My Rating: 5